Root Canal Pain — Do You Know The Symptoms?
By Lake Marion Dental Care
May 06, 2012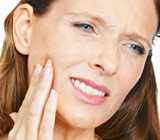 Nearly everyone has either said or heard the expression, "I'd rather have a root canal..." when comparing worst-case scenarios. However, this comparison is a common myth for a treatment that is typically successful with little to no pain. In fact, the pain associated with a root canal problem occurs prior to treatment and is relieved by it, not visa versa.
To begin with, let's define what root canal treatment is as well as the field of dentistry that specializes in it. Endodontics ("endo" – inside; "dont" – tooth) is the branch of dentistry that addresses problems affecting a tooth's root or nerve. It is dedicated to the diagnosis and treatment of diseases and disorders of the root canals of the teeth. The canals inside the tooth roots contain the living tissues called the dental pulp, which also contain the nerves of the teeth. When the pulp inside a problematic tooth becomes inflamed or infected it responds by becoming painful, and pain is a warning sign of a problem. The nature of the symptoms can define the character of the pain and the problem. They include the following:
Sharp, acute pain that is difficult to pinpoint
Intense pain that occurs when biting down on the tooth or food
Lingering pain after eating either hot or cold foods
Dull ache and pressure
Tenderness accompanied by swelling in the nearby gums
Each of these different categories of pain signify a different problem, but all are related to root canal issues. Nevertheless, you should contact us today (before your condition worsens) to schedule an appointment. And to learn more about the signs, symptoms, and treatments for a root canal, read the article "I'd Rather Have A Root Canal...."